Sam's Memorial Cabin Fund
---
---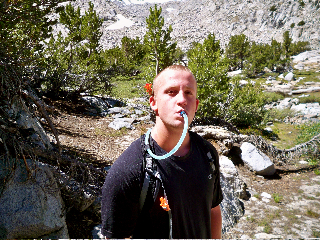 Sam passed away at the age of nineteen, son of Jeff Shimkus (Jeff S.) Fire Captain and OC Hiking Club Secretary and Hike Organizer.
Samuel James Shimkus; March 15, 1990 - January 28th, 2010.
Due to Sam's love of hiking and his many friends in the OC Hiking Club, a memorial fund has been created. The club will purchase and maintain a modest Big Bear Cabin with these funds. "Sam's Cabin" will be a memorial to him and become a permanent part of the club allowing members to attend hikes and related outdoor events in the Big Bear area.
Sam's favorite activities were exploring, hiking, backpacking, snowboarding, surfing and wakeboarding. He loved these sports and he did all of them well. As a young boy, Sam and Jeff would extensively explore and hike the San Mateo Creek area at the south border of San Clemente as well as the Talega area. He shared his father's love of the Cleveland National Forest and the Eastern Sierras. His favorite local hikes were the San Mateo Creek watershed, Roller Coaster Ridge to the Flag and the Holy Jim Trail to the summit of Santiago Peak. Sam's favorite backpacking trip was above South Lake in the Bishop Pass area and camping around the Treasure Lakes. He was looking forward to hiking/backpacking Mt. Whitney with his dad.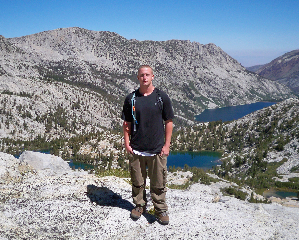 Sam graduated from San Clemente High School and was attending Saddleback College full- time. He was transferring to University of San Diego in the fall. Additionally, he held two part-time jobs as a Special Education Instructional Aide for the Capistrano Unified School District as well as a Center Associate for the UPS Store in Dana Point. Sam's love of people extended to everyone he knew. He accepted all without judgment and was a well loved and loyal friend.
Sam is survived by his parents Jeff and Kim, his younger sister Sarah and his older and disabled brother Anthony. Words cannot express how hard it is to lose a son, best friend and brother. His physical presence is sorely missed. Through Sam's Cabin his memory and love of the outdoors lives on and will be shared with many. Look for him on the trail.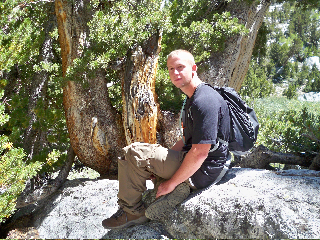 From the depths of my soul,
Jeff Shimkus
Anaheim Fire Department Captain
OC Hiking Club Secretary and Hike Organizer
Mailing Address:
OC Hiking Club
2222 Michelson Drive, Suite 2470
Irvine, CA 92612
Fax 888-350-8884
All donations are tax deductible
---
---
A charitable organization. Copyright © 2006-2013 OC Hiking Club/Hike Everywhere, All rights reserved. Distribution or publication of this site's content without prior written permission is prohibited.